Michelle Alexander
Talent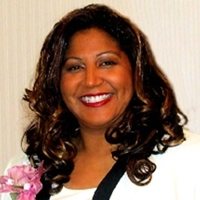 General Info
| | |
| --- | --- |
| Gender: | Female |
| I am a(n): | Dancer, Host - Talk Show/Interview, Model, News Anchor, News Reporter, Narrator, Singer, Voiceover Artist, Live Entertainer, Will do Extra Work, Will do Promotional Modeling work |
| Age Range(s): | 30-35, 35-40, 40-45, 45-50, 50-55 |
| City I live in: | Columbia |
| State I live in: | MD |
| I can take jobs in: | District of Columbia, Maryland, Virginia - Northern, Delaware, Pennsylvania, Eastern/Central, New York, New Jersey (Southern/Central), New Jersey (Northern/NYC Area) |
| Ethnicities I can play: | African American, Hispanic, Middle Eastern, Native American, Latin American, Caribbean, Mixed, Indian/Pakistani |
| Professional Memberships: | Md. State Bar, NEA, |
| Website Link #1: | |
Physical Stats
| | |
| --- | --- |
| Hair Color: | Black |
| Eye Color: | Brown |
| Height: | 5'6" |
| Weight: | 171 to 180 Lbs. |
| Grow your hair?: | Yes |
| Cut your hair?: | Yes |
| Change hair color?: | Yes |
| Physique: | Average |
Special Skills
Languages Spoken:

French

Accents/Dialects:

French, Spanish, Long Island, Southern, Caribbean, Nigerian

Can Use a Teleprompter:

Yes

Misc. Performance Skills:

Singing

Dance:

Bellydance, Flamenco, Jazz, Interpretive, Disco

Singing Styles:

Choir, Country, Folk, Gospel, Jazz, Musical Theatre, Rhythm and Blues, Pop

Singing Voice Type:

Mezzo-Soprano

Character Voices:

valley girls, madea types, most female voices, including children

Musical Styles Performed:

Choral, Country, Folk, Gospel, Jazz, Musical Theatre, Pop, Rhythm and Blues, Soul

Voice Demo Reel:

Available by Request

Other Skills:

writing, editing, and organizational skills

About Me:

Mia Naja al Sephira a.k.a. Michelle Alexander currently specializes in the performance and teaching of Middle Eastern dance. She also performs Flamenco and has studied Ballet, Modern (Humphrey-Weidman technique), African and Jazz. Mia Naja started performing at age 12 with the Columbia Dance Theatre directed by Anne Allen and co-directed by John "Kinderman" Taylor. She has performed with the Baltimore Symphony Orchestra at the Merriwether Post Pavilion, Community College of Baltimore and at the Columbia City Fair with modern dance pioneer, the late Charles Weidman.

In college, Mia Naja danced at the opening and dedication of Grey Columns, a historic site in Tuskegee, Alabama, sponsored by the National Parks Service. She also has performed as an understudy of both roles created by Nell Carter and Armelia McQueen, in the production of "Ain't Misbehavin" at Petrucci's Dinner Theatre in Laurel, Maryland.

She has recently danced at the Fells Point Fun Festival, Maryland Renaissance Festival, Amaya's Shake and Bake Dance Festival in Albuquerque, NM, and the Casablanca restaurant in Alexandria, VA. Other area engagements include the Rockville Senior Center, Brighton Hills Nursing Home, the Columbia Chapter of Alpha Phi Alpha Fraternity, Inc., at health fairs sponsored by the Howard County Pan-Hellenic Council, and several schools in Montgomery County. She was also featured in a promo for WMAR-TV Channel 2 in Baltimore.

Mia Naja also sings and in college, sang in the Michigan State University Women's Glee Club, and the Tuskegee Institute "Golden Voices" Choir, recording an album performing a repertoire of spirituals written by Tuskegee's renowned William Dawson. She has also performed an array of music ranging from show tunes and ecclesiastical music such as Handel's Messiah to songs in Latin, German, French, Negro dialect to Contemporary Gospel. She also sang with a gospel choir "Voices of Faith" and an ensemble "Daylight".

In competition, Mia Naja placed second in the Tuskegee Veterinary School Talent Show and First place twice in talent shows sponsored by the Entertainment, Arts & Sports Law Association at University of Baltimore School of Law. When she is not dancing, teaching dance or singing, Mia Naja works as an educator and attorney in the Washington-Baltimore Metro area.