Rob Huddleston
Talent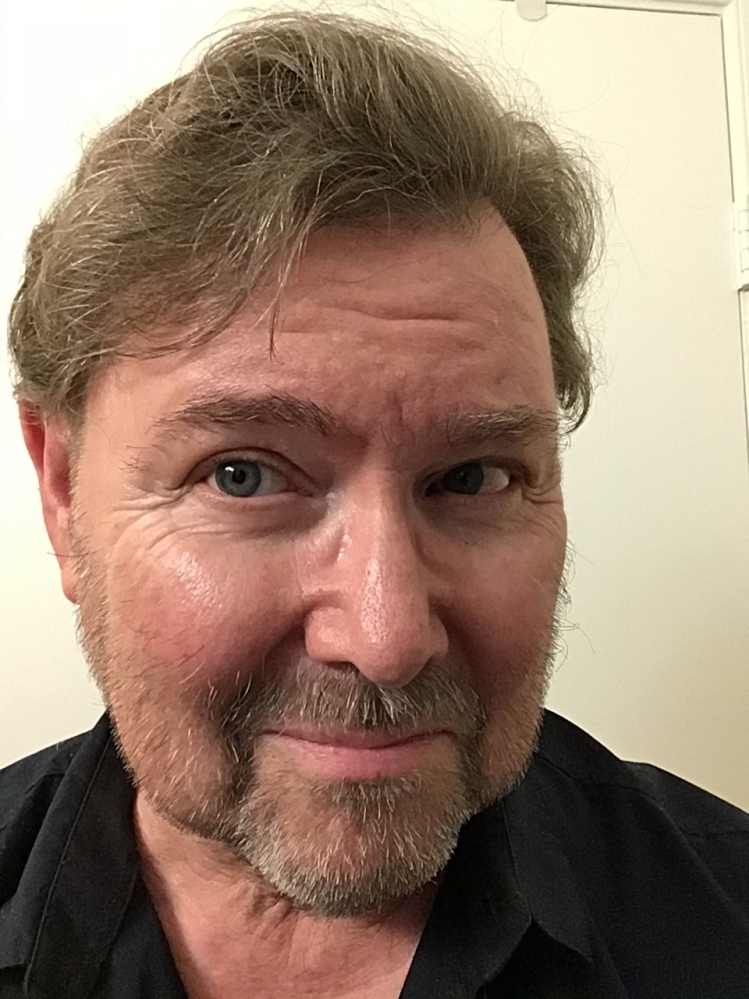 General Info
| | |
| --- | --- |
| Gender: | Male |
| I am a(n): | Actor Film/Video, Actor Theatre, Host - Talk Show/Interview, News Anchor, News Reporter, Narrator, Radio Personality, Singer, Voiceover Artist |
| Age Range(s): | 55-60, 60-75 |
| City I live in: | Rockville |
| State I live in: | MD |
| I can take jobs in: | Any, Overseas |
| Ethnicities I can play: | Caucasian / White |
| I am: | SAG-AFTRA |
Physical Stats
| | |
| --- | --- |
| Hair Color: | Brown (Light) |
| Eye Color: | Blue |
| Height: | 5'8" |
| Weight: | 201 to 210 Lbs. |
| Facial Hair: | Beard/Full |
| Physique: | Large |
Sizing Info
| | |
| --- | --- |
| Suit/Jacket: | 46/48R |
| Neck: | 17.0/17.5 |
| Sleeve: | 34/35 |
| Inseam: | 29/30 |
| Waist: | 40/42 |
| Unisex Gloves: | 9 or L |
| Hat: | 21 1/2 " - S - 6 7/8 |
| Men's Shoe: | 9.5 |
Special Skills
Languages Spoken:

English

Accents/Dialects:

English/Irish

Can Use a Teleprompter:

Yes

Can Use an Ear-Prompter:

Yes

Misc. Performance Skills:

Ear-prompter, Tele-prompter, Aircraft Flight Training, Photography, Auto/Truck/Motorcycle/Boat Skill

Dance:

Ballroom, Rock n Roll, Salsa, Disco

Singing Styles:

Country, Folk, Gospel, Musical Theatre, Pop, Swing

Singing Voice Type:

Baritone

Character Voices:

Nerdy Space Alien, Warm Spoken Grandpa, Twilly Lady/Aunt, Broad Barking Broadcaster/Announcer

Musical Styles Performed:

Bluegrass, Country, Dixieland, Folk, Gospel, Musical Theatre, Pop

Voice Demo Reel:

Available by Request

Other Skills:

Comedy & Drama, Military & Firearms Skills, Vintage Automobile & Horse Carriage Driving Skills

About Me:

Rob Huddleston is a collector of memorabilia, antique aircraft, antique automobiles and horse drawn carriages, and he is a long-time member of the Aircraft Owners and Pilots Association (AOPA), the Antique Automobile Club of America (AACA) and the American Truck Historical Society (ATHS). Also, Mr. Huddleston is a member of the American Federation of Television and Radio Artists (AFTRA) and the Screen Actors Guild (SAG).

He has worked as a Stage Performer, a Private Investigator, a Disc Jockey, an Announcer, a News Reporter, a News Anchor, an Emcee, a Mascot and as a Program Director and Promotion Director for broadcasting companies as Heritage Broadcasting, Walmer Media Group, Jim Gibbons Broadcasting, Capstar, AM/FM Inc and Clear Channel Communications. As a child performer in the 1950's, Mr. Huddleston appeared on stage with Hollywood's legendary Three Stooges when they were promoting their first full-length feature film Have Rocket Will Travel.

Mr. Huddleston is a Vietnam Era Veteran and a graduate of the USAF School of Applied Aerospace Sciences. He worked as a radio operator with the USAF and MD-ANG and was honorably discharged in 1977. He is a 600-hour graduate of the Broadcasting Institute of Maryland (BIM) in Baltimore, where he has taught Public Speaking and has served on the school's Board of Alumni Advisors. Mr. Huddleston served three years as a Board of Trustee member of the Radio & Television Museum, near Washington DC.

Rob Huddleston has performed on a stage in almost every state throughout the continental United States including Baltimore's Morris Mechanic Theatre and New York's prestigious Brooklyn Academy of Music. He has performed complex improvisation and as a role-play actor at training academies for federal government agencies such as the United States Secret Service (USSS), the United States Capital Police (USCP) and for the United States Postal Service (USPS).

As a reporter, he has interviewed countless numbers of senators, congressmen, politicians, people of special interest, sport celebrities, an astronaut, and even a Hollywood pachyderm named Dondee who performed with actor Bill Murray in the movie Larger Than Life. Mr. Huddleston has covered the news and talk circuit on every topic from hurricanes to murder trials. In 1999, Rob Huddleston's collaborating Talk-Radio show Moms Talk was nationally televised as part of a Lifetime Network feature presentation.

Over the years, Mr. Huddleston has welcomed onto the stage such legendary performers as Connie Francis, Glen Campbell, Tanya Tucker, Larry Gatlin, George Hamilton IV, Hal Holbrook, the Oak Ridge Boys, the Drifters, the Coasters, George Jones and Loretta Lynn, to name a few. He has clowned around with comic Weird Al Yankovic, with television's Laverne & Shirley's Cindy Williams and Eddie Mecca, with 007 James Bond's arch villain Richard 'Jaws' Kiel, and he has clowned around Frederick, Maryland as 99.9WFRE-FM's bumble-bee mascot, FreeBee.

In recent years, Mr. Huddleston has performed as an Actor/Background Extra in movie scenes with Nichole Kidman and Danial Craig (The Invasion), with Matt Damen (The Good Shepherd), with Robert Duvall (Gods and Generals), with Comedian Chris Rock (Head of State), with John Travolta and Joaquin Phoenix (Ladder 49), with Alan Rickman, Kiera Sedgwick and Mary Stuart Masterson (Something The Lord Made). A highlight in his acting career is that of getting personal, one-on-one direction in scenes for The Good Shepherd by Actor/Director Robert De Niro.

In films, Mr. Huddleston has portrayed complex character roles as a Navy Rear Admiral (The West Wing/Warner Bros.), an aged boxing trainer (The GOOD Fat City/Independent), a weary train traveler (The Time Machine/Independent), a mysterious phychiatrist with a BIG syringe (Syringe/Independent), a 14th century bohemian catholic priest (Truth Prevails: The Undying Faith of Jan Hus/Christian History Institute), an unscrupulous 19th century patent lawyer (Stolen Thunder/History Channel), a murderous Baptist preacher (Who Killed Jake B Christian/Independent), and as the 19th century Fort Levenworth prison warden, Lt. Col. Elwood Spand (One-Eyed Horse/Come Hell Or High Water/Independent), to name some.

Currently, Mr. Huddleston performs as a freelance voice-over talent in radio and television commercials, and he occassionally performs on live stage.

Rob Huddleston now resides in Maryland, to be close to his children and grandchildren.