Member Login
Network Statistics
• Members: 6752 members
• Connections: 15980 Connections
• Comments: 29 - Blogs

People Online (49)
Brendon Brewer
,
Chema Pineda-Fernandez
,
Rich Levering
,
A O
,
Richard Costen
,
Richard Colon
,
Jessica Gruver
,
Bob Hurley
,
Glenn Nelson
,
Veronica Lowe
,
Mehdi Aniba
,
Nicole Wildy
,
Vincent Dantone
,
David Villavicencio
,
Kita Grayson
,
Curran Johnston
,
Rocky Xavier
,
Karyn-Siobhan Robinson
,
Gary Moore
,
Gina Grinkemeyer
,
Dennis Marburger
,
Shining Star
,
Tiffany Cain
,
Trent Lamar
,
Chris Wargo
,
Patrick O'Neal
,
Ryan Carlo
,
Angel Burke
,
Catie Carlton
,
Dan Verkman
and 19 guest(s)
Newest Members
Members Last Logged In
A MESSAGE FROM BRIAN
"Greetings To All! Please sign up as soon as possible, as since our launch, we have posted and filled 1000's of jobs, events and announcements, and you don't want to miss a thing. Our newsletter is free and for a small fee, one of the lowest in the industry, make your profile visible to perspective employers and connect with other industry professionals (
Click Here to upgrade and make your profile visible).
But you must sign up to gain access to the newsletters and the site. And it's so easy now to find the postings directly related to you.
Just click here to watch our video tutorial on The New Easy Way to Search for Jobs and Postings.
Whether you are talent, production/ crew, or an entertainment industry employer, feel free to join, look around, find or post a job, send an email to a friend to connect, locate a casting director, Production Company, or a writer, invite Connections to hookup, utilize the forums and so much more. There are resources galore here so be sure to visit often to further your career!
This is your industry haven, so use it to its full capacity and enjoy!
If you have questions comments or suggestions,
Click Here to contact us.
Again I thank you for joining, as it is my hope to see you greatly further your carreer in the entertainment industry, and that Dragonuk Connects can be part of it!"
Regards,
Brian
Welcome!
WHO IS BRIAN DRAGONUK?  Click Here to learn more about Brian Dragonuk by reading this interview with the Erie Digest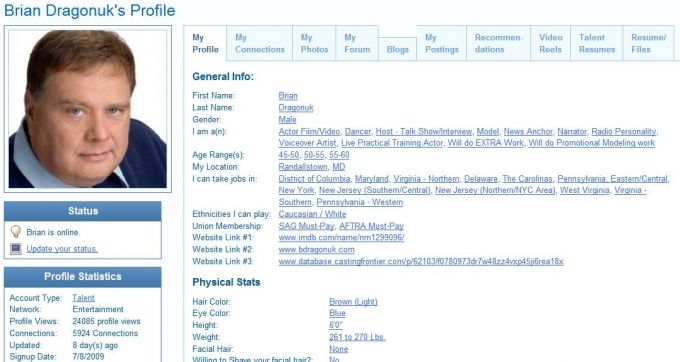 UPGRADE NOW!

What do I get with an Upgraded Dragonuk Connects subscription?
If you haven't upgraded yet to a paid subscription, your Profile is invisible to others!  Make sure prospective employers, producers and casting can SEE YOU AND CONTACT YOU!  Many jobs on Dragonuk Connects are cast by employers searching your profile and you never even get to see a posting.   
And a paid subscription on Dragonuk Connects is like having your own Actor's website! Just give your profile's web address to employers. Upgrade your account now by CLICKING HERE!
Watch the video below to see how to "filter" through to the jobs and postings that relate to you.  
 Watch more of our video site tutorials by Clicking Here  
___________________________________________ 
DragonukConnects.com is a Professional Networking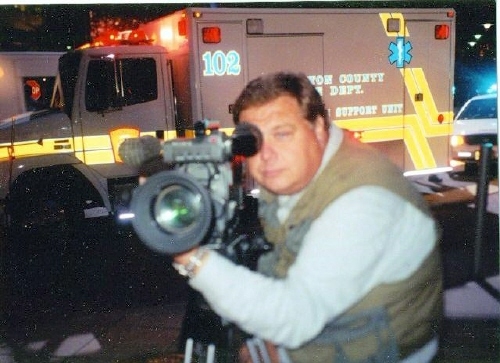 Community and Jobs Site Covering the Entertainment Industry in the Mid-Atlantic States USA.
The Mid-Atlantic States are Pennsylvania, Southern New Jersey, Delaware, Maryland, Washington DC, Virginia and the surrounding outskirts.
The Membership includes Talent (Actors, Models, TV Show Hosts, Radio Personalities), Freelance Production Crew Members (Film, Video, TV & Theatre),  Agents, Casting Directors, Theatres, Production Company's, Independent Filmmakers, Universities, State Film Offices, Unions, Trade Groups & Organizations, and Other Industry Resources (Headshot Photographers, Reprint House, Demo Reel Editors, ETC)
___________________________________________ 
 

 

 

 

Did you crop your profile photo correctly? 

Click Here to watch our video tutorial on how to upload and change your profile photo. 

 

 

 

Did you know that all members of Dragonukconnects.com can post a job, announcement, training class, networking event or something for sale in the trading post?  

 

To post your free ad, go to "My Apps" on the lower main menu, and click "Jobs/Postings".  Just fill out the form and click the submit button.   

 

If you are unsure about posting, click here to view our video tutorial on "How to Post Jobs and Events"

 

Rather pay by check?


Click Here

for more Information

 

RSS Feed For Jobs and Postings

_____________________________________________________________________________

  We're on Facebook!  We invite you to LIKE our Facebook Pages!

Click one of the following:

-------------------------------------------------------------------------------------------------------------------------------------
DragonukConnects.com
What's New for Upgraded Members?
HERE'S WHAT MEMBERS ARE SAYING! Click the play button below now!
Upgraded Member Status Updates
Jani Bedrick
~completed p
­hoto shoot f­or a pharmac­eutical comp­any ~
Cheryl Rhoads
plays Martha
­ Washington ­in George Wa­shington'­s Boy - Feb ­18th
John McGowan
Spring 2017
­is nearing. ­Booking seas­on, let'­s go
Tony Head
was just nom
­inated for b­est guest ac­tor by the I­ndie Series ­Awards in Lo­s Angeles!
Isabella Vida
still acting
­ in communit­y theater. L­ove it so mu­ch. Looking ­forward to w­hat my actin­g future off­ers
Recent Postings