Member Login
Network Statistics
• Members: 6564 members
• Connections: 15770 Connections
• Comments: 29 - Blogs

People Online (63)
Jay Jones
,
Angela Moore
,
Valerie Boyd
,
Raisa Lefé Rouse
,
Michel Faulkner
,
Barbara Zablocky
,
Gabriel Scruggs
,
Keith Mills
,
Shari Morris
,
Tamara Phipps
,
Glenn Nelson
,
Patrick Burnett
,
Sam Johns
,
Adam Vetock
,
Daniel Thompson
,
Quoshay Thornton
,
Andrew Gelos
,
Nina Tillery
,
Nike Oyebanjo
,
Skinny Corleone
,
Joey Ibanez
,
Craig Fleming
,
Victoria McCawley
,
Kathryn Rheault
,
Karyn-Siobhan Robinson
,
Eliza Kelley
,
Lauri Rodich
,
Brian Dragonuk
,
Minlo Wonlin
,
Kenny Brown
,
Stage Name
,
Harvey Roberts
,
Wendy Susan Hammer
,
Megan Marie
,
Trent Lamar
,
Styves Exantus
,
Dom DiMercurio
,
Cliff Cunningham
,
Jenn Allen
,
Kaelan Dickinson
,
Layla Dunn
,
Brian Harvath
,
Lisa Sponaugle
,
Alan Harrison
and 19 guest(s)
Newest Members
Members Last Logged In
A MESSAGE FROM BRIAN
"Greetings To All! Please sign up as soon as possible, as since our launch, we have posted and filled 1000's of jobs, events and announcements, and you don't want to miss a thing. Our newsletter is free and for a small fee, one of the lowest in the industry, make your profile visible to perspective employers and connect with other industry professionals (
Click Here to upgrade and make your profile visible).
But you must sign up to gain access to the newsletters and the site. And it's so easy now to find the postings directly related to you.
Just click here to watch our video tutorial on The New Easy Way to Search for Jobs and Postings.
Whether you are talent, production/ crew, or an entertainment industry employer, feel free to join, look around, find or post a job, send an email to a friend to connect, locate a casting director, Production Company, or a writer, invite Connections to hookup, utilize the forums and so much more. There are resources galore here so be sure to visit often to further your career!
This is your industry haven, so use it to its full capacity and enjoy!
If you have questions comments or suggestions,
Click Here to contact us.
Again I thank you for joining, as it is my hope to see you greatly further your carreer in the entertainment industry, and that Dragonuk Connects can be part of it!"
Regards,
Brian
Welcome!
WHO IS BRIAN DRAGONUK?  Click Here to learn more about Brian Dragonuk by reading this interview with the Erie Digest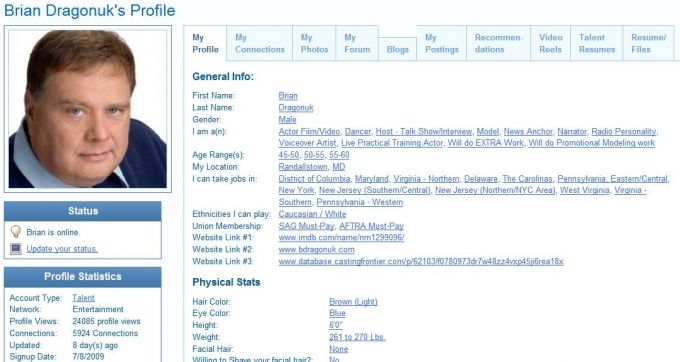 What do I get with an upgraded Dragonuk Connects subscription?
If you haven't upgraded yet to a paid subscription, your Profile is invisible to others!  Make sure prospective employers, producers and casting can SEE YOU AND CONTACT YOU!  Many jobs on Dragonuk Connects are cast by employers searching your profile and you never even get to see a posting.   
And a paid subscription on Dragonuk Connects is like having your own Actor's website! Just give your profile's web address to employers. Upgrade your account now by CLICKING HERE!
Watch the video below to see how to "filter" through to the jobs and postings that relate to you.  
 Watch more of our video site tutorials by Clicking Here  
___________________________________________ 
DragonukConnects.com is a Professional Networking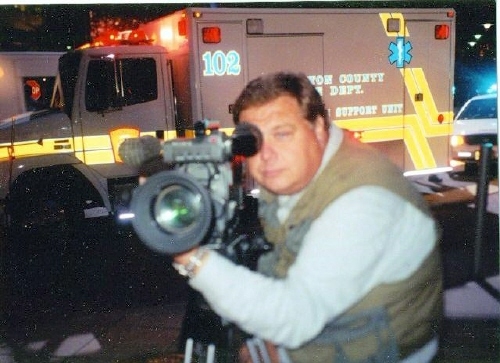 Community and Jobs Site Covering the Entertainment Industry in the Mid-Atlantic States USA.
The Mid-Atlantic States are Pennsylvania, Southern New Jersey, Delaware, Maryland, Washington DC, Virginia and the surrounding outskirts.
The Membership includes Talent (Actors, Models, TV Show Hosts, Radio Personalities), Freelance Production Crew Members (Film, Video, TV & Theatre),  Agents, Casting Directors, Theatres, Production Company's, Independent Filmmakers, Universities, State Film Offices, Unions, Trade Groups & Organizations, and Other Industry Resources (Headshot Photographers, Reprint House, Demo Reel Editors, ETC)
___________________________________________ 
 

 

 

 

Did you crop your profile photo correctly? 

Click Here to watch our video tutorial on how to upload and change your profile photo. 

 

 

 

Did you know that all members of Dragonukconnects.com can post a job, announcement, training class, networking event or something for sale in the trading post?  

 

To post your free ad, go to "My Apps" on the lower main menu, and click "Jobs/Postings".  Just fill out the form and click the submit button.   

 

If you are unsure about posting, click here to view our video tutorial on "How to Post Jobs and Events"

 

Rather pay by check?


Click Here

for more Information

 

RSS Feed For Jobs and Postings

_____________________________________________________________________________

 We're on Facebook!  We invite you to LIKE our Facebook Fan Pages!

 

Click one of the following:

-------------------------------------------------------------------------------------------------------------------------------------
DragonukConnects.com
What's New for Upgraded Members?
HERE'S WHAT MEMBERS ARE SAYING! Click the play button below now!
Upgraded Member Status Updates
Sophia Smithson
finished fil
­ming with Si­rens. Aweso­me shoot wit­h FABULOUS c­rew!!!
Rafiu Akanni
Completed wo
­rk on "­Black Dad"­ by Andrew S­kinner a wee­k go!
Tommy Griffiths
narrating fi
­lms for Nati­onal WWII Mu­seum in New ­Orleans, and­ documentari­es for NFL H­all of Fame
Josh Bunche
is looking t
­o work in a ­fashion show­/event and m­odel for app­arel.
Cassie Cope
is Anybodys
­in West Side­ Story at LI­ttle Theatre­ of Alexandr­ia, 7/23-8/1­3
John Pallotta
Nominated by
­ Backstage a­gain Best Ac­ting Teacher
Gale Nemec
Nemec Played
­ Nana Dot (l­ead) in A St­able Christm­as. Loved th­e part!
Recent Postings